According to their website, Index-Digital Trade is a leading investment/asset management company offering premium investment services to investors; both individuals and corporations.
They pride themselves in their guarantees and successful track record in the trading/investment market.
If they are accepting Investments from Investors in the US Territories,  then they must be at least, registered with the U.S. Securities & Exchange Commission (SEC)
Regardless of their goal.
If they are doing business in Canada they must also be registered with:
Do you see any mention of these "security exchanges" on their site?
No.
But they have a good video…see below.
Cryptographic Hashing Function.
Video: Good to watch.
The above video is actually really good for understanding the "Hashing Function" with Bitcoin Mining.
Quick Navigation
---
Live Website Chat at Index Digital Trade
Before, doing this review, I thought I would use the "Live Chat" function that is offered on the Index-Digitaltrade website.
Here are the responses I got through "the screenshots provided for you":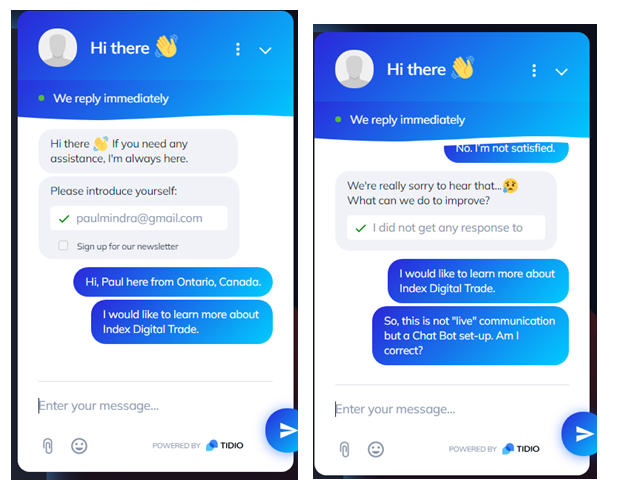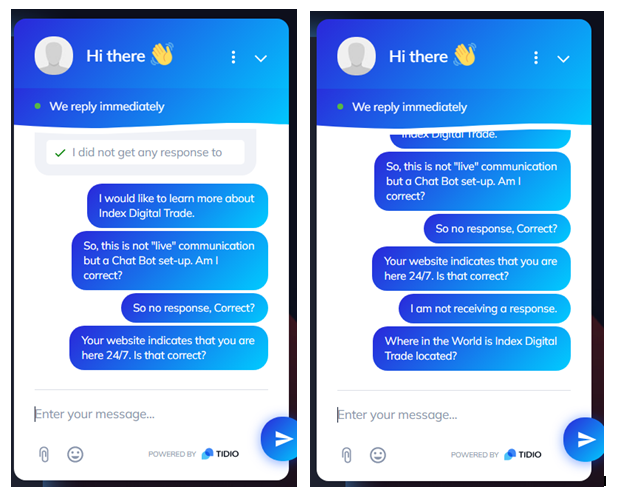 So, Red Flag number 1.
Their Live Chat is not "Live" and even the "live Chat Bot" that they use is not very efficient.
This is the same bot by Tideo which can be found on another site that looks suspiciously similar to this site and may be being operated by the same "Bad Actors."

Red flag number 1.
---
Website Analysis – ScamDoc
Scamdoc is a web tool that evaluates "digital identities" reliability (email address or website).
It provides answers to questions frequently asked by Internet users. You can check to see if a website is reliable or not, how to detect fraudulent emails, and how much to trust a website or an Internet correspondent.
The use of ScamDoc is free and unlimited. As such, this site can be used by anybody who wishes to get some information before purchasing or during an exchange with an unknown contact.
ScamDoc uses a web service called ScamPredictor. It is an algorithm developed by the Scamwatcher.com platform team which uses an artificial intelligence classification system. Just enter an e-mail or a website URL to get a detailed report with a trust score!
Here are the results for https://www.index-digitaltrade.com/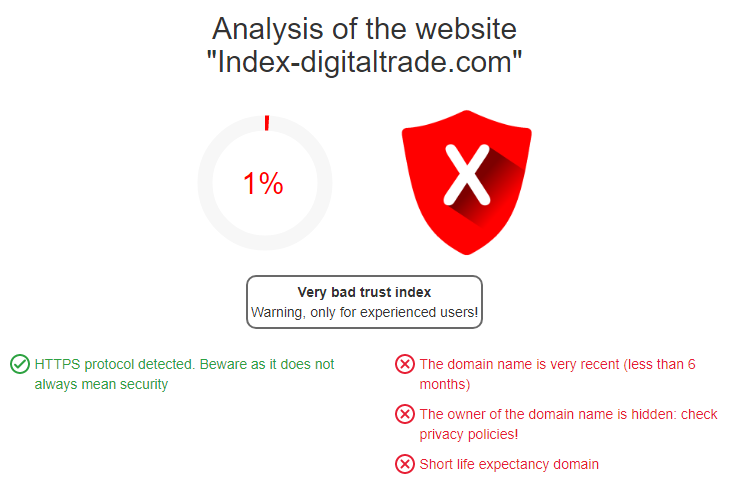 Doesn't look too good, does it?
The site is suspected to be a source of SPAM, is less than 6 months old, and has been purchased on a year-to-year renewal standard.
The owner of the Domain Name is hidden and is expected to have a short life expectancy.


Red flag number 2.
---
Investor Security and Protection

THE REVOLUTION IN ASSET INVESTMENTS MANAGEMENT
According to its website, Index Digital trade offers its investors access to high-growth investment opportunities in the financial markets through the utility of state-of-the-art technical facilities and the implementation of industry-standard cryptocurrency trading strategies.
"We are pleased to offer some of the most dynamic and high-performing investment services available." – Source Index Digital Trade Website.
Today, we manage a total of £455.6bn (€501.2bn/$562.9bn) of assets on behalf of governments, insurers, companies, charities, foundations, and individuals across 80 countries (as of 30 June 2013).
Wholly Crap.
They are bordering on 1 Trillion but we do not know who these guys are.
Count to 1 Google.
You know what?
I hope you have learned something from the two videos posted here on this site. They are good. Everything else so far is bad.



---
Index Digital Trade Investment Plans
I am not going to go further to waste your time or mine in "writing this review."
This site and its solicitations are a scam.
---
Summary
Hi, Your Admin here on this site, Paul Mindra.
Is Index Digital Trade a Scam or a Dare?
I say that Index Digital Trade is a Pure Scam, but if you "Dare" to try it, do so with your "Big-Boy" pants on.
Meaning, don't cry after the fact and keep any finger-pointing directed back to you.
There are a few legitimate opportunities available online to better your presence in life. Unfortunately, they are not "Get Rich Quick."
For those looking for "Quick" options, especially in the Cryptocurrency/Forex/Binary options markets I can only offer some guidance for Canadaians but you can get what you need in your particular jurisdiction through some due diligence.
If you suspect that an individual or firm selling an investment or offering advice is not registered in their proper jurisdiction, stop dealing with them immediately. If someone who has approached you to invest tells you they are registered, check NRS and with the registered firm they say they represent.
National Registry Search (Canada)
Some Guidelines that you should consider:
Returns that are "too good to be true" probably are. Bad actors often try to hook people by guaranteeing extremely high returns in a short period of time with little or no risk.
Bad Actors who promote fraudulent schemes don't want to give you any time to figure out their game. They may also pressure you to invest a little at first. Once you invest, they will then come back looking for a larger amount.
Bad Actors may offer to help you with your investment account or ask for remote access to your computer or mobile device. Giving out your account information to these Bad Actors, or allowing them to access your computer or mobile device is extremely risky. It could result in fraud and/or identity theft.
Be wary of investments that are promoted as exclusive offers only to you and select people, like wealthy insiders, have access to them. Bad Actors like to name-drop or say they have access to famous or rich people when promoting an investment.
If an investment advisor or individual says they are giving you "confidential" investment advice, they may actually be deceiving you or their employer. Both put you at risk. It is illegal to knowingly trade on inside information.
If a firm or individual from outside of Canada is trying to open an account for you, wants to give you trading or investment advice, or is offering you an investment, be extremely wary. Brokerage firms need to register with your province or territory as dealers or advisors in order to open trading accounts or recommend investments to you.
Anti-establishment – Any individual who encourages you to subvert the government or avoid financial institutions is most likely trying to keep their illegal activities from being tracked.
Cutting out the paper trail. Without documents for investment purchases, statements, or a prospectus (a formal document that explains the details of an investment and the risks involved), a Bad Actor can easily take your money without being detected.
If the person/company selling you the investment doesn't answer your questions or they use diversionary tactics, they're probably trying to keep you from seeing the truth. A legitimate investment has nothing to hide.
I trust that this review was helpful.
If you want to turn something on your mind into a passion, and then into a striving business, you need some guidance.
The link above is not "Bait and Switch." It is real since 2005.
Kindest regards,
Paul Mindra.
AKA The Forensic Affiliate.